Reverend Monsignor Francis Amedee
June 1, 1924 – April 9, 2015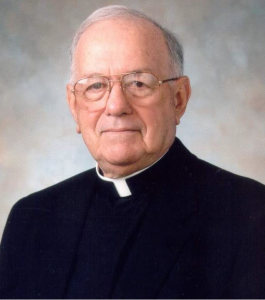 Monsignor Francis J. Amedee was ordained into the priesthood on May 22, 1948. Before arriving in Thibodaux, Monsignor Amedee spent time as a priest in Baton Rouge and New Orleans. In 1963, he became founding pastor of St. Gregory Church in Houma, serving seven years as the school and parish were formed. In 1970, he became pastor of St. Joseph Co-Cathedral until his retirement 1999. Monsignor Amedee worked with the archbishop to create the Houma-Thibodaux diocese, which until 1977 was part of the New Orleans Archdiocese. He founded St. Joseph Manor in 1995 and cited it as one of his proudest accomplishments. He also encouraged the building of Cardinal Place, an extension of St. Joseph Manor serving the adult 55 or older, which is currently under construction.
St. Joseph Manor board, staff, and residents will forever be grateful to Monsignor Amedee. He touched many lives and will be greatly missed.
NOTE: excerpts originated from the Daily Comet/Courier.